Ask App for iLivid Chrome插件
Ask App for iLivid Chrome插件图文教程
Ask App for iLivid插件概述
Ask App for iLivid是一款可以帮助用户轻松搜索网页的chrome插件。这要求应用程序ilivid扩展配置您的默认搜索设置,Ask.com。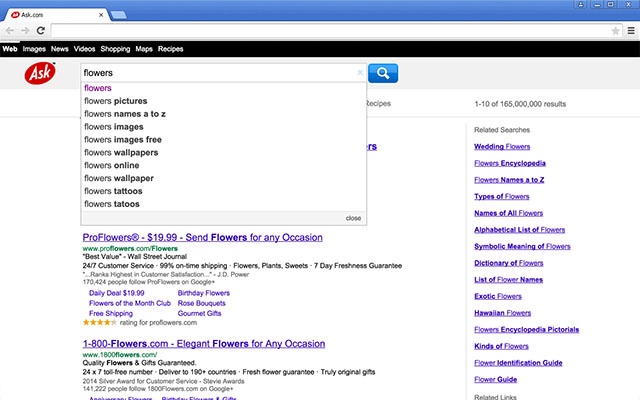 Ask App for iLivid插件介绍
请仔细阅读:通过点击"免费+添加在右上角上面Chrome"按钮,安装程序的要求ilivid延伸,你同意安装这个应用程序,你同意最终用户许可协议和隐私政策和接受任何未来的更新和升级。应用程序与我们的服务器通信,以提供其功能和记录使用度量。你可以随时卸载程序。
最终用户许可协议:http://apnstatic.ask.com/static/searchapp/documents/legal/en/ask_eula.html
隐私政策:http://about.ask.com/privacy-policy/
从谷歌浏览器移除我们的分机:
1)点击你的Chrome浏览器右上角的三个水平线图标。
2)去"设置"。
3)在菜单上出现点击"扩展"。
4)从已安装的扩展名列表中,找到要卸载的工具栏扩展名。
5)点击垃圾桶图标右侧的"启用"(工具栏扩展名你希望卸载)。
6)完全关闭浏览器并重新打开浏览器。我们的工具栏扩展应该从你的Chrome浏览器中移除。

相关推荐:
1.Norton Safe Search as default for Chrome
2.MySearchDial
3.Google Dictionary (by Google)


Ask App for iLivid插件英文介绍
Easily search the web
This Ask App for iLivid extension configures your Default Search setting to Ask.com.
Please read carefully: By clicking the "Free+ Add to Chrome" button in the top right hand corner above and installing the Ask App for iLivid extension, you agree to install this application, and you agree to the End User License Agreement and the Privacy Policy and to receiving any future updates and upgrades. The application communicates with our servers to deliver its functionality and record usage metrics. You can uninstall the program at any time.
End User License Agreement: http://apnstatic.ask.com/static/searchapp/documents/legal/en/ask_eula.html
Privacy Policy: http://about.ask.com/privacy-policy/
To remove our extension from Google Chrome:
1) Click on the three horizontal lines icon in the upper right-hand corner of your Chrome browser.
2) Go to "Settings".
3) In the menu that appears click on "Extensions".
4) From the list of installed Extensions, find the name of the toolbar extension you wish to uninstall.
5) Click on the trash can icon to the right of "Enable" (for the toolbar extension you wish to uninstall).
6) Close your browser completely and reopen it. Our toolbar extension should be removed from your Chrome browser.
For instructions on how to remove our extension from Firefox or Internet Explorer, or for other support, please visit us at http://help.ask.com/ics/support/KBList.asp?folderID=11.
If you are still seeing Ask.com after uninstalling our extension, it is likely that your browser's default search setting has not yet been reset back to its previous setting. For instructions on resetting your default search setting, please click here: http://help.ask.com/link/portal/30015/30018/Article/134/Ask-com-is-my-default-Google-Chrome-home-page-or-search-engine-in-Windows-How-do-I-change-it.
For assistance from our customer service team, please email us at searchapp@help.ask.com or contact us here: http://help.ask.com/ics/support/ticketnewwizard.asp?style=classic
Help & Feedback: http://help.ask.com/ics/support/ticketnewwizard.asp?style=classic
Policies: http://apnstatic.ask.com/static/searchapp/documents/legal/en/ask_eula.html
Uninstall: http://help.ask.com/ics/support/kbanswer.asp?deptID=30018&task=knowledge&questionID=134http://help.ask.com/ics/support/KBList.asp?folderID=11
Contact Us: searchapp@help.ask.com http://help.ask.com/ics/support/ticketnewwizard.asp?style=classic
查看更多
Ask App for iLivid Chrome插件基本信息
插件名称:Ask App for iLivid 插件作者: 插件语言:English (United States) 官方站点:暂无官方站点 插件唯一标识:mppnoffgpafgpgbaigljliadgbnhljfl
Ask App for iLivid Chrome插件用户数和评分
下载次数:8372440 用户评分:3.3257 (共5分) 参与评分人数:611
Ask App for iLivid Chrome插件文件信息
当前版本:1.1 最后更新日期:2015-07-21 文件大小:16KiB
Ask App for iLivid Chrome插件下载地址
Ask App for iLivid Chrome插件近一年下载统计
| | |
| --- | --- |
| 月份 | 当月下载量 |
| 2014年09月 | Ask App for iLivid搜索插件 Chrome插件共 1563626 次下载 |
| 2014年10月 | Ask App for iLivid搜索插件 Chrome插件共 1238846 次下载 |
| 2014年11月 | Ask App for iLivid搜索插件 Chrome插件共 1163091 次下载 |
| 2014年12月 | Ask App for iLivid搜索插件 Chrome插件共 1223441 次下载 |
| 2015年01月 | Ask App for iLivid搜索插件 Chrome插件共 1080681 次下载 |
| 2015年02月 | 共 943605 次下载 |
| 2015年03月 | 共 1339129 次下载 |
| 2015年04月 | 共 1046281 次下载 |
| 2015年05月 | 共 992401 次下载 |
| 2015年06月 | 共 1768380 次下载 |
| 2015年07月 | 共 1083523 次下载 |
| 2015年08月 | 共 615497 次下载 |
| 2015年09月 | 共 1754359 次下载 |
| 2015年10月 | 共 1190985 次下载 |
| 2015年11月 | 共 1013938 次下载 |
| 2015年12月 | 共 1158567 次下载 |
| 2016年01月 | 共 857194 次下载 |
| 2016年02月 | 共 1382279 次下载 |
| 2016年03月 | 共 1500921 次下载 |
| 2016年04月 | 共 1131272 次下载 |
| 2016年05月 | 共 1168177 次下载 |
| 2016年06月 | 共 874805 次下载 |
| 2016年07月 | 共 859550 次下载 |
| 2016年08月 | 共 1183357 次下载 |
| 2016年09月 | 共 1088085 次下载 |
| 2016年10月 | 共 1578096 次下载 |
| 2016年11月 | 共 1411780 次下载 |
| 2016年12月 | 共 1440085 次下载 |
| 2017年01月 | 共 1634408 次下载 |
| 2017年02月 | 共 1773428 次下载 |
| 2017年03月 | 共 1250400 次下载 |
| 2017年04月 | 共 1246474 次下载 |
| 2017年05月 | 共 1235855 次下载 |
| 2017年06月 | 共 1468129 次下载 |
| 2017年07月 | 共 1607748 次下载 |
| 2017年08月 | 共 1105733 次下载 |
| 2017年09月 | 共 1097133 次下载 |
| 2017年10月 | 共 1770212 次下载 |
| 2017年11月 | 共 1534498 次下载 |
| 2017年12月 | 共 1030577 次下载 |
| 2018年01月 | 共 1721417 次下载 |
Ask App for iLivid Chrome插件同类插件推荐